Top Ten British Meals
What are the top ten dishes the British eat?
Would you like to try making any of them?  Look at the top ten and click on the title to see the recipes from our favourite British TV chef…
In the number 10 spot we have the delicious dessert…
A delicious combination of fruit jelly, custard and cream…  mmmmmm..
---
Coming in at number 9 is…
The British love "pies".  They come in a variety of flavours and types, some sweet, some savoury, some with potato, some with pastry.
---
The winner of spot number 8…
---
And in at number 7 the stereotypical…
A strange (and generally unhealthy) mix of sausage, bacon, egg, beans, mushrooms, tomato…
Yes, all on one plate.
---
Number 6 goes to…
best served with onion gravy and peas
---
The 5th favourite is…
Otherwise known as smoked haddock soup
---
Number 4, another pie…
This time a pie made with pastry
(don't forget the HP brown sauce..)
---
Another pie at number 3…
1. Named because it was originally made with lamb and therefore cooked by shepherds OR
2. Named because it was made with minced meat or the leftovers from the Sunday roast dinner and cooked by poor people who lived in cottages.
---
The penultimate prize goes to…
Yes, you guessed it..
---
And finally, the British number 1…
The Sunday roast dinner.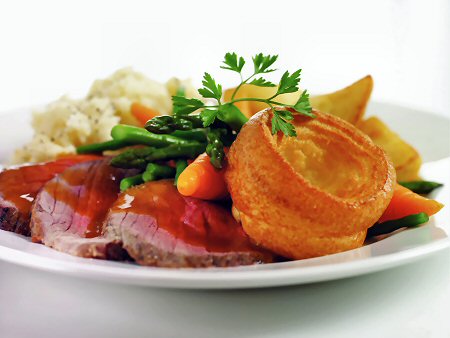 The favourite choice is, Roast Beef, roast potatoes, vegetables, gravy and Yorkshire puddings.
Now, choose your favourite dish and try to make it…