Being a Daddy – Part 2
Lucy's First Christmas
I am of the opinion that Christmas has become far too commercialized, and I get the feeling every time I see a Santa or Father Christmas in a shop window that people are being tricked in some way, as the only reason he is dressed in red and white is because coca-cola made him that way. In fact, previously he was dressed in green.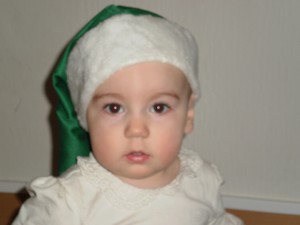 That said, there is a magic surrounding Christmas in England which I enjoy. Maybe it is the lights, the Christmas trees in people's front windows, or the copious sweet food available. Whatever it is, it reminds me of home at that time of year.
Lucy, my now 11-month-old daughter, absolutely loved it as she is now able to crawl properly, stand up and pull off the Christmas tree decorations. She has also learnt the adorable habit of "ooing" as she opens presents.
To spice up Christmas (it can be a bit boring watching T.V.) and to make Lucy's first one especially exciting, my parents had booked seats at the pantomime in Billlingham Forum Theatre. Pantomime is a kind of children's theatre where the actors and actresses encourage the audience to participate. It is almost always about a fairy tale such as 'Puss In Boots', 'Cinderella' or 'Goldilocks', and often is a mixture of them. This time 'Jack and The Beanstalk' was the play.
My wife and I were so surprised to see how Lucy got into it: getting scared when the baddie came on; and jumping up and down, frantically waving her flashing wand my father had given her whenever they started singing.
Actually, even going to church on Christmas day this year was fun because while Lucy was playing with her mother in the crèche area of the church, I was belting out carols, much to the embarrassment of my parents.
Finally, the icing on the cake of my Christmas caper was when my family and I were on the plane wondering if anyone would occupy the last remaining spare seat, which happened to be next to us. Suddenly somebody, as if to answer our thoughts, asked if he could sit down. That somebody was… wait for it… none other than my very good friend and colleague, Mark from Today School Clot, who most of you know and love!
All in all, I would say after the experience that the true meaning of Christmas became clear to me. So, are you ready for it? …The true meaning of Christmas is that, whether you are religious or not, it is a special time to say thanks for the family you have and the love you get from them. Needless to say that you don't have to wait for Christmas to do it.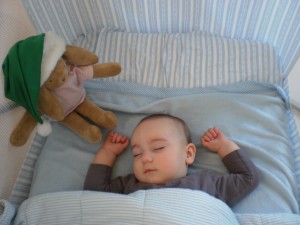 If you have had any weird coincidences or have funny Christmas stories, please feel free to share them on the blog. Sharing is good for the soul!
copious – abundante
crawl – gatear
pantomime – pantomima
get into something – participar con ganas
belt out – cantar a grito pelado/ vociferar
much to the embarrassment of – para la vergüenza de
caper – aventura
wondering – preguntandonos